Welcome Fellow Clashers To Clashin'WSmitty (Clan #2P2JYJPC8)
We are a brand new clan, created on 9/13/2019.
For years, I wanted to create my own clan, but I did not want to start over.
After being in a few great clans…
Rise of Fallen #202GLLOL2
Bearforce One #28LPQ200
Boise, Idaho #22GGCJYP
Deaths Envy #PL8JCRLR
I decided it was time to make my own and start over. With eight accounts of my own and my girlfriend's, we weren't starting from scratch exactly. It sucks not having all the perks of a level 10+ clan anymore.
If you'd like to join, stopover, and stay as long as you'd like, we'd love to have you. We don't have any rules per se. Just a few… guidelines.
(Some basic common courtesy is all.)
#1 – Be nice to all.
We are very laid back and not strict about anything (Unless you're not being nice).
Don't beg for anything.
Elder can be earned if you stick around, donate and participate.
Co-Leader is earned by sticking around, donating, and being loyal.
We are a US-based clan, and we all speak English and welcome anyone and any language/country, but we probably won't understand you unless you can speak a little English. But you are welcome to stay if you'd like.
If you want to leave and come back, feel free. You will not get booted if you want to leave and return.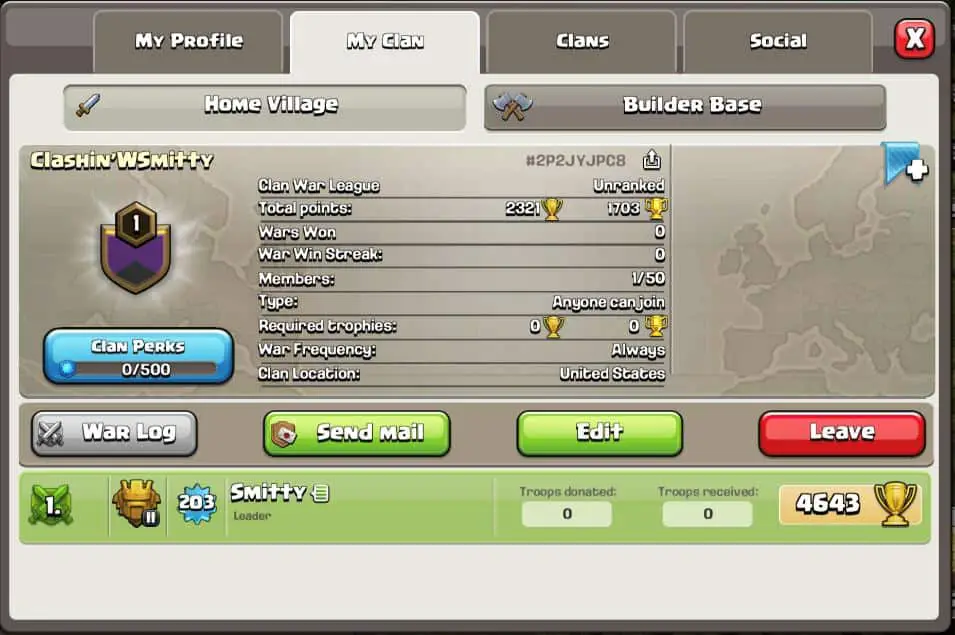 ---
Join Our 'Clashin' With Smitty' Group on BAND
The 'BAND' Group will mainly be used for live chats/notices. Similar to texting. For example: If you are in war and forget to attack, I can send you a message on BAND and let you know the war is about to end. If you have notifications, you'll get a message similar to texting. It's similar(ish) to a Facebook feed where you can post things, have a profile and pictures, etc. Just a way to get to know others in the clan.
Q: Why don't you have a Facebook Group/Fan Page?
A: I don't like Facebook.
Join us on BAND – https://band.us/n/a4a51dW4p3K4G
---
My Gaming Channel